Multi-centre and Tailor-made Holdiays
Corfu and/or Paxos and/or Anti Paxos and/or Corfu Town As well as offering a week on each island using our own flights, we can utilise easyJet flights to make multi centre holidays on these islands more flexible - a few nights in Corfu town could be added onto the end or the beginning of a villa stay. Corfu Town with its winding narrow shopping streets, beautiful mix of architectural styles and impressive fortresses is, perhaps, the most elegant island capital in Greece.
North Corfu and South Corfu A two centre in Corfu should not be overlooked. The south with its long sandy beaches contrasts well with the pebbly coves and dramatic scenery of the north.
Kefalonia and Ithaca, rich in historical legend, is a 45 minute ferry journey from Sami in Kefalonia.
North and South Kefalonia Kefalonia is the largest of the Ionian Islands and has a varied landscape. Some of the best beaches in Greece are here - from sandy beaches in the south to pebble beaches in the north, including Myrtos beach which has been voted one of the top ten beaches in the world. The drive from north to south is around 2 hours.
Lefkas and/or Meganissi and /or Sivota, Meganissi is a 30-40 minute ferry ride from Nidri in Lefkas. Sivota is in the stunning Epirus region of the mainland and is a 2.5 hour drive from Lefkas (Lefkas is connected to the mainland by a causeway). Epirus is recognised as one of Europe's prime areas of outstanding natural beauty. Why not spend a few nights in either Ioannina, the lakeside capital of the region or in Mikro Papingo in the heart of the mountains where we can prebook accommodation? Ioannina is a 1.5 hour drive from Sivota and Mikro Papingo 2.5 hours.
Skiathos and/or Skopelos and/or Alonissos A regular flying cat service connects all three islands making these islands easy to combine Crete and Santorini. There is a high speed ferry connection (1.5 hours) from Heraklion on the east of Crete to Santorini. The drive time from our villas in the north west of Crete to Heraklion is around 2.5 hours.
Athens Athens has flight connections to Crete, Corfu, Kefalonia and Skiathos so we can arrange a short stay in an Athens hotel followed by a stay in a villa on an island (or vice versa). In some instances the flight back to the UK may need to be routed via Athens. Short breaks in Athens can also be arranged.
Fly-Drive – Hidden Greece A fly-drive holiday on the mainland offers the opportunity to discover some of the most beautiful areas of Greece where those interested in history, archaeology or local flora and fauna will be well catered for. A fly-drive allows you to explore areas rarely featured in holiday brochures, and will well reward the independent traveller in search of more adventure than the normal holiday provides.
Some of our tailor-made holidays villas
Sea View Villa
Kilada | Sleeps 2-10
Four/Five bedroom villa • Swimming pool
For a luxurious stay in the Peloponnese look no further than Sea View Villa. From daily maid service to the option of having your own personal chef making Greek classics, this is the perfect choice if you're looking to indulge and treat yourself.
View Details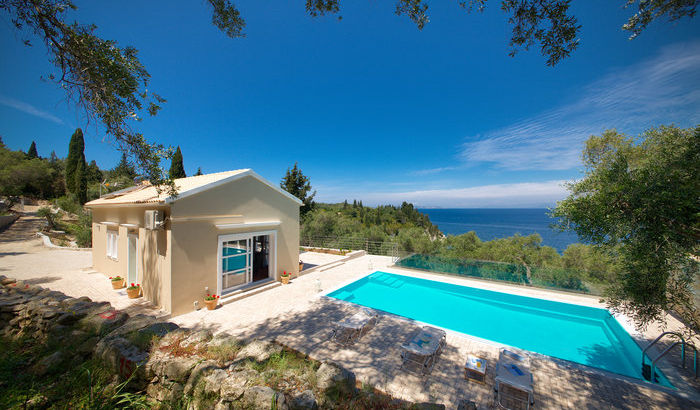 Villa Somnium
Loggos | Sleeps 2-4

Special Offer
Two bedroom villa • Private swimming pool
With one of the best locations on Paxos within walking distance of both a village and beach, Villa Somnium also comes with tasteful interior design and your own private pool, all adding up for maximum convenience in a gorgeous spot. This beautiful property is ideal for a romantic couple's escape, although you can use the gallery bedroom to accommodate smaller groups or families too.
View Details

Villa Gregory
Kalami | Sleeps 2-11
Four bedroom villa
Well, you couldn't get much closer to the water. Sleepwalkers beware. Kalami Bay is where the Durrells lived during their spell in Corfu and it is one of the magical and most sought after bays of Corfu.
View Details