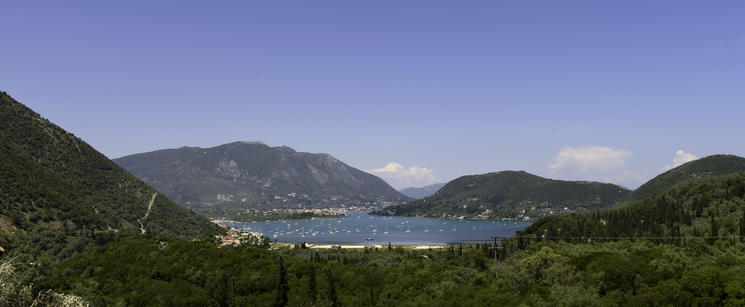 ---
Fertile and green, with sweeping mountains and a turquoise sea, Lefkas encapsulates the dramatic panorama of Greece.

Across a canal originally excavated in 640BC, a swing-bridge joins the spectacular island of Lefkas to the Greek mainland. Twenty one miles long and nine miles wide, Lefkas is divided by the towering spine of Mount Stavratos, so that each corner of the island has its own character.
To the north, windswept dunes and ruined fortresses; to the west, magnificent beaches of perfect sand beneath steep limestone cliffs; the east, more sheltered, with honey-coloured beaches stretching as far as the eye can see.
Georgeous countryside dotted with villages and crooked backstreets with multicoloured houses in
Lefkas town
complete a magical picture.
And to round it off, the Acheron River is thought to be the ancient River Styx – gateway to the
underworld!
Regular boat trips leave Nidri to visit the nearby islands of Madouri,
Meganissi
and Skorpios, now owned by Onassis' grand-daughter Athena.
Ferries to
Kefalonia
and
Ithaca
run daily throughout the summer.
Flight Information
Commences - Sunday morning
Departure airport - London Gatwick and Manchester
Arrival airport - Preveza
On arrival - Transfer to Villa (all within 1 hour)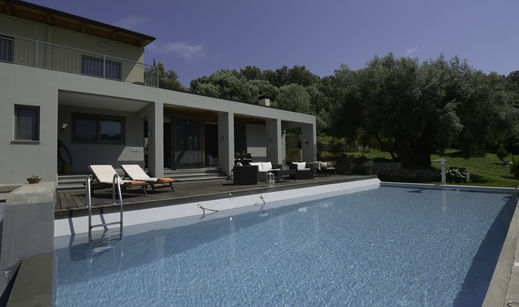 Elies Residence
Near Lefkas Town | Sleeps 2-14
Just two kilometres away from Lefkas Town, the Elies Residence is a modern, private and stylish retreat in a two acre garden, surrounded by olive groves.
---
Villa Constantina
Sivota | Sleeps 2-6
The sheltered bay and pretty harbour of Sivota lies near the tip of Lefkas on the south east coast. A two kilometre track leads from Sivota through the coastal olive groves to the hillside position of Villa Constantina.
---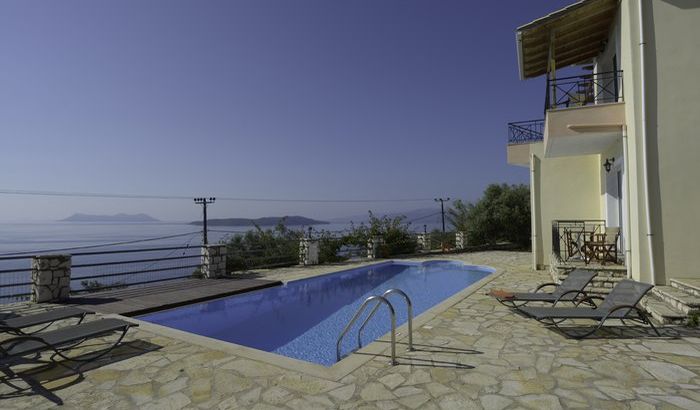 Villa Eleonora
Near Sivota | Sleeps 2-6
Villa Eleonora is a modern and stylishly furnished home amongst olives groves with views to the entrance of Sivota Bay, Lefkas' mountainous coastline and across the sea to the islands of Meganissi, Kastos, Arkoudi, Ithaca and Kefalonia.
---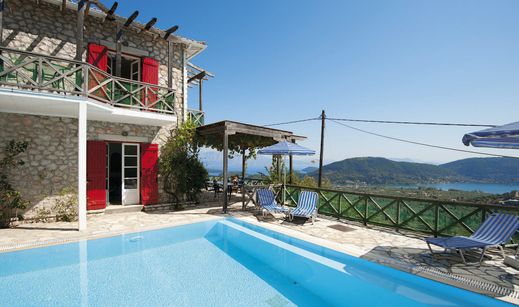 Villa Helidona
Paliokatouna | Sleeps 2-10
A little-used country road from Nidri climbs a hillside of olives and citrus groves to reach this small village. Villa Helidona is a unique, recently built but traditional-looking stone house located above the village road between Paliokatouna and Neochori.
---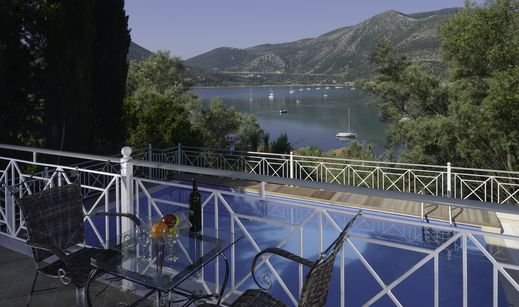 Villa Katerina
Near Geni | Sleeps 2-6
Villa Katerina will appeal to those who are looking for a comfortable, peaceful and private villa overlooking the sea and just a two minute walk to a waterfront taverna and a five minute drive to a beach.
---
Villa Katia
Tsoukoulades | Sleeps 2-8
Ten minutes from the spectacular beaches of the west coast, the farming village of Tsoukoulades lies amongst a beautiful, unspoilt landscape of cypress and olives.
---
Villa Yesemi
Near Sivota | Sleeps 2-3
Uninterrupted views from the balcony and infinity pool take in a coastline of olive groves, the entrance to Sivota Bay, the islands of Meganissi, Kastos, Arkoudi, and Ithaca,
---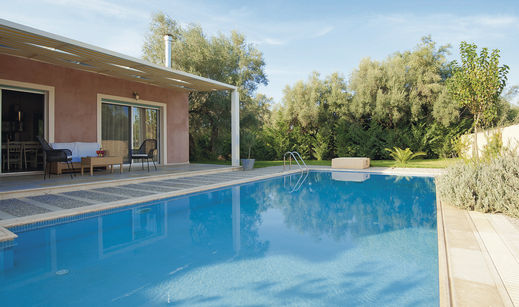 Villas Maria Leda
Near Lefkas Town | Sleeps 2-6
Two kilometres outside of the capital of Lefkas and just a fifteen minute stroll from the beach lies Villas Maria Leda.
---
Island locations in Lefkas
Use the map to explore each of the locations on Lefkas to which you can take a Greek Island Villa Holiday.