Hotel Villas
Clients have often commented to us that one of the drawbacks of staying in a secluded, private villa is that they miss the variety that a hotel offers and their children do not have the opportunity to meet and make new friends.
Our solution is to feature properties that have private villas attached, yet offer all the facilities of the hotels to those holidaying in the villas. So, you will have privacy and peace in luxury villas while at the same time benefiting from access to a high standard of hotel services, excellent restaurants, bars, sports facilities, a variety of swimming pools and, in most cases, world class spas.
For more information, please contact one of the team on 020 8232 9780
Some of our hotel villas villas
Aphrodite Hills Resort
Paphos | Sleeps 2-10
Two to five bedroom villas most with private swimming pools
The Aphrodite Hills Resort is one of the leading destinations on Cyprus. Here, luxurious five-star accommodation comes hand-in hand with warm Cypriot hospitality; attentive, yet unobtrusive, service; breathtaking panoramas and first rate facilities. Sit back, relax and be prepared to feel rejuvenated.
View Details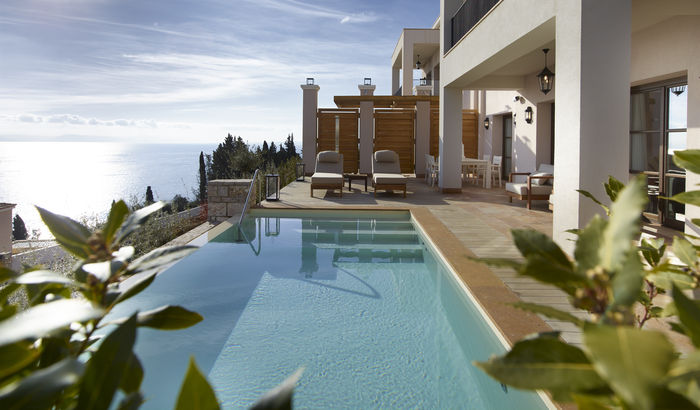 Angsana Hotel Villas
Sleeps 2-8
One, two, three and four-bedroom villas with private swimming pool
Stepping through the doors of the Banyan Tree Angsana Corfu you are transported into an oasis of calm and extraordinary beauty. At every turn, this sympathetically designed five-star hotel invites light and nature to flood in and places its incredible 180-degree views, along Corfu's south-eastern coastline, at centre stage. Take a seat in one of the hotel's many lounges, in its garden or around its panoramic swimming pool and you will feel at one with your surroundings.
View Details