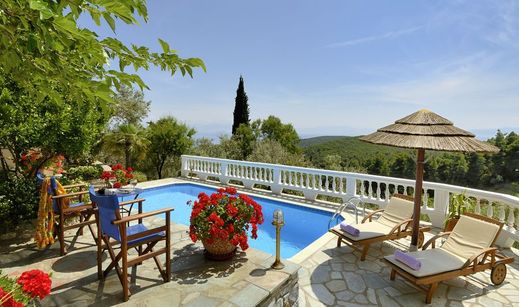 ---
Potami House
Near Panormos
| Sleeps 2
Potami House is set on a wooded hillside just a few kilometres inland from the east coast village of Panormos.

The open views take in the pine-forested valley leading down to Panormos and across the sea to the coastline of Evia. No houses overlook Potami and the house and grounds have total privacy.

As a traditional country house, the furnishings are simple but comfortable.

Terraces surround the house and the garden areas contain lemon, fig, almond, cypress and carob trees plus a magnificent, gnarled and twisted, four hundred year old olive tree. The attractive dining patio, shaded by a grapevine, overlooks the pool terrace and incorporates a
barbecue area.

Accommodation
Ground floor of sitting/dining room; kitchen; bathroom with shower. First floor of one double bedroom.




Air Conditioning (Included)
BBQ
Car Hire Included
CD Player
Swimming Pool (Private) - 7.5m x 3.5m & depth 1m – 1.9m
T.V. (Satellite)
Welcome Pack
Beach
Boat Hire - at Panormos
Cafes / Bars
Restaurants
Shops
The calendars below show the villa availability. If an availability search returns no availability it could be that there are no flights to form a package. Please call reservations on 020 8232 9780 or email info@gicvillas.com to discuss other options.
Price guide
Per person based on 4 adults
sharing for 7 nights from:
May N/A
Jun N/A
Jul N/A
Aug N/A
Sep N/A
Oct N/A
Any latest offer prices have been incorporated above.