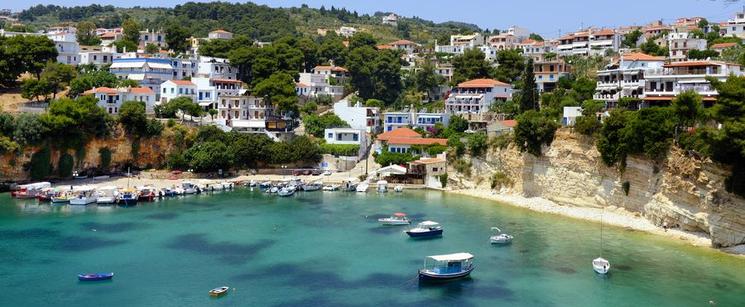 ---
Tranquil and fertile, an island that treasures its unspoilt beauty and deserted beaches, Alonissos fulfils the escapist's dream.





Nobody is in a hurry on Alonissos. The island seems to wish only to be enjoyed. In the villages, whitewashed houses and narrow-paved streets almost doze in the sun, whilst the rocky limestone coastline offers perfect shelter for the many secret pebbled beaches and deep caves carved out of the steep cliffs.

Exceptionally rich in sealife, the surrounding waters are part of a Marine Park, protecting the Mediterranean Monk Seal and even the occasional dolphin.

Several small islands lie close off-shore, uninhabited except for a few shepherds and many goats, including Gioura, whose Blue Cave may be the home of the fabled giant, Cyclops.

Offering stunning views on all sides, walking trails run along the narrow island's backbone, winding through olive groves and almond trees.

Flight Information
Commences - Friday morning
Departure airport - London Gatwick and Manchester
Arrival airport - Skiathos
On arrival - Transfer to port for the hydrofoil or ferry crossing (1 hour 20 minutes)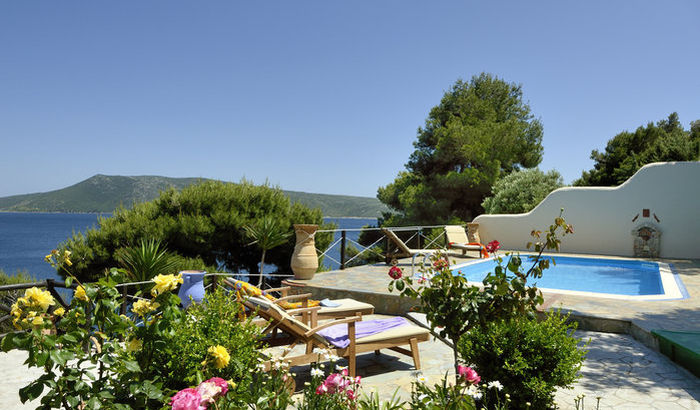 Katia's House
Kalamakia | Sleeps 2-6
Katia's House stands on a hillside overlooking the tiny port of Kalamakia,
---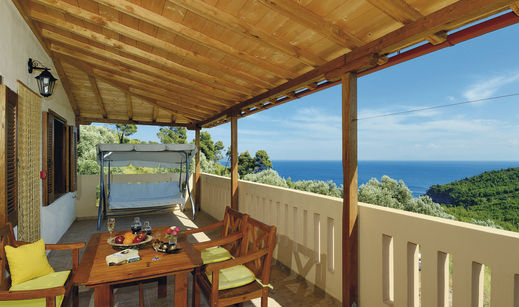 Milia Cottage
Near Chrisi Milia | Sleeps 2-3
Milia Cottage is quietly located down a short track which branches off from the roads that lead to the beaches of Kokkino Kastro and Chrissi Milia.
---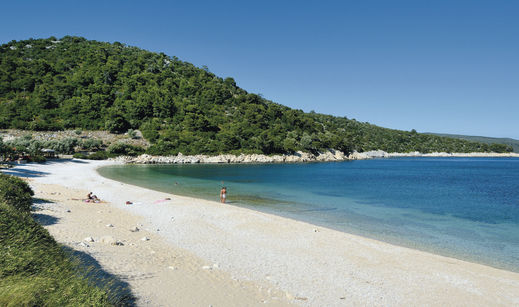 Neptune Cottage
Lefto Yalo Bay | Sleeps 2-3
Neptune Cottage is set amongst the hillside olive groves beside the beautiful bay of Lefto Yalo, on the island's South East coastline. .
---
Paparouna
Near Alonissos Old Town | Sleeps 2-6
Paparouna is set on a hillside terrace just below Alonissos Old Town.
---
Sea Horse Cottage
Vamvakies | Sleeps 2
Sea Horse Cottage shares the same beach as Fisherman's Cottage; steps from the verandah lead directly on to the beach.
---
Villa Aquilo
Megali Ammo | Sleeps 2-6
A small, graded track of six kilometres leads from Patitiri to a coastline rich in pines, olives and cypress trees close to the southern tip of Alonissos. With beautiful sunsets and views over the bay of Megali Ammos to the island of Skopelos, Aquilo provides a comfortable and peaceful retreat.
---
Villa Manolia
Kato Horafi | Sleeps 2-6
Villa Manolia is a spacious, modern and comfortable home offering peace and privacy.
---
Villa Tassoula
Lefto Yalo Bay | Sleeps 2-3
Villa Tassoula stands amongst olive groves in a valley beside Lefto Yalo Bay.
---
Island locations in Alonissos
Use the map to explore each of the locations on Alonissos to which you can take a Greek Island Villa Holiday.